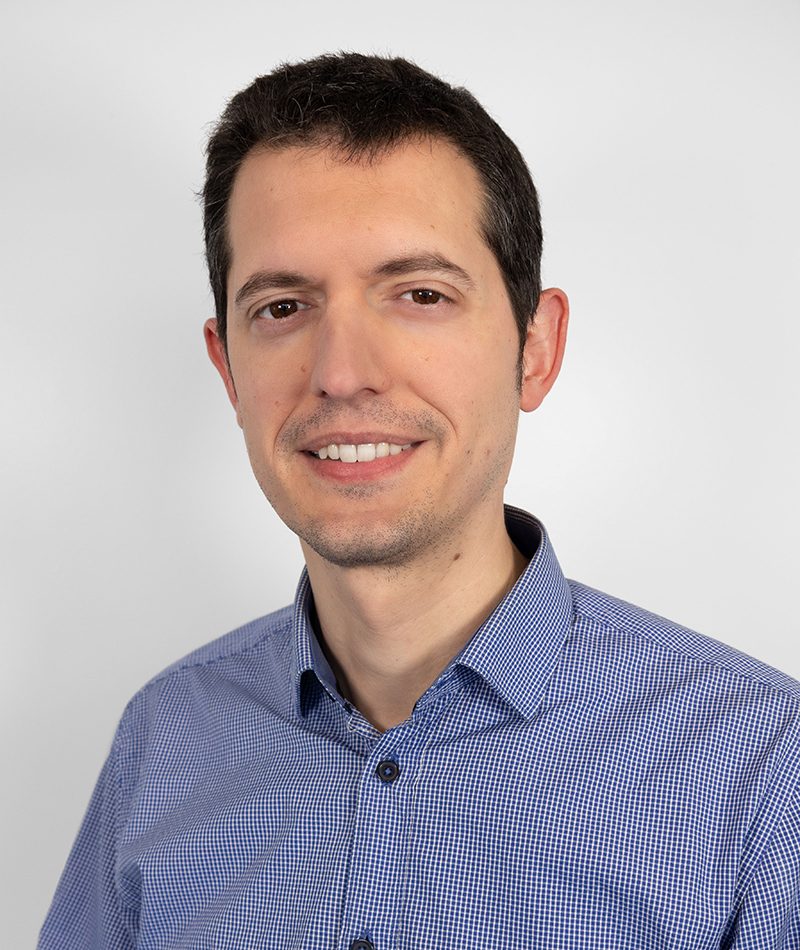 Space and Resilient Communications and Systems (SRCOM)
Phd , Researcher
Email: pol.henarejos@cttc.cat
Phone: +34 93 645 29 00
Pol Henarejos received the Telecommunication Engineering degree from the Telecommunication Engineering High School from Barcelona (ETSETB) of Technical University of Catalonia (UPC) in May 2009. In 2012, he obtained the Master of Science in Research on Information and Communication Technologies from UPC. In 2017, he obtained the Ph.D. degree from UPC, with a distinction Cum Laude.
He joined the CTTC in January 2010 in Engineering area and he worked prototyping the physical layer communication technologies using software development. He is an expert in terrestrial and satellite technologies, such as LTE, 5G-NR, DVB-S2X, BGAN or Li-Fi. He participated in European projects such as PHYDYAS, FANTASTIC-5G and ATRIA, in European Space Agency programs (Satnex III, Satnex IV, Satnex V, SATAI) and with industrial contracts. He is also the promoter of the CASTLE Platform, the cloudified architecture for hybrid satellite and terrestrial networks.
Currently he is researching on the development of new Artificial Intelligence algorithms for satellite communications, implementation of physical stack of many standards and enabling 5G technologies on flexible multicast and broadcast communications.
ORCID #: 0000-0002-6879-5693
1. R&D Expertise
He participated in 9 R&D projectes funded by European Comission (FP7 and H2020 programs), European Space Agency (ESA) and Spanish Government.
– NGW (ESA)
– SAN (European Celtic)
– SATNeX IV – Advanced Signal Processing techniques for fixed and mobile satellite communications (ESA, PI)
– FANTASTIC-5G (European H2020, Task Leader)
– PHYDYAS (European FP7)
– SAT-AI (ESA, WP Leader)
– ELISA (National)
– TERESA (National)
– EXALTED (European FP7)
– NEWCOM++ (European FP7)
He also participated in technology transfer projects:
– LTE Listen (CISCO, Task Leader)
– SILenCe (CTTC, Task Leader)
– MULTIANTSAT (Hispasat, PI)
– NB-IoT (Inmarsat)
Futhermore, he participated in 10+ European H2020 proposals, as a PI, WP Leader and Task Leader.
2. Scientific Production
He is the author of:
– 8 journals and magazines.
– 20 papers in international conferences .
– +200 cites
– h-index 8
– i10-index 5
3. Head of Testbed CASTLE Platform®
He is the head, promoter and maintaner of the testbed CASTLE Platform®, a platform for cloudification of wireless standards. Since 2015, he worked in the following tasks:
– 2016: construction of the initial testbed. It consisted in a cluster of 5 servers, 4 USRP, a router, clock & PPS synchronizer and a rack. Each component was programmed individually.
– 2017: LTE, link level.
– 2017: additional cluster on intensive computation.
– 2017: satellite reception, 4-POL in real-time.
– 2017: BGAN standard, link level.
– 2018: satellite backhauling. Two independent satellite full-duplex GEO satellite links, provided by Hispasat.
– 2018: Visible Light Communications enhancement. It allows to broadcast videos in real-time via visible light.
– 2019: E2E 4G LTE-A network with commercial UE (mobile phones).
– 2019: AI & ML cluster for intensive computation.
– 2019: Integration of CASTLE services via REST.
– 2019: DVB-S2X transmission & reception in real-time, with commercial receivers.
– 2019: remote adaptive MODCOD DVB-S2X broadcast via AI.
– 2020: mmWave. It includes a bi-directional 32×32 beamforming front-end at 26-30 GHz. This was programmed to perform beamforming remotely in real-time.
– 2020: satellite upgrade, including a satellite emulator.
– 2020: 5G-NR Release 16 full E2E network, with CA support, NB-IoT and LTE-M.
– 2020: construction of a VLC white room.
4. Reviewer
He is a regular reviewer of the following journals:
– IEEE Transactions on Communications
– IEEE Transactions on Vehicular Technologies
– IEEE Transactions on Wireless Communications
– IEEE Transactions on Signal Processing
– IEEE Signal Processing Letters
– IEEE Wireless Communications Letters
– EURASIP Journal on Advances in Signal Processing
– Sensors
5. Intelectual Property
He holds 1 patent:
– Method and System for providing diversity in polarization of antennas (International Application Nº: PCT/EP2014/051801. Granted patent: EP3100371)
6. Invited Talks & Lectures
He has been invited in several talks and lectures:
– "Ubiquity in Emergency and Disaster recovery", Mobile Word Congress 2019
– Weekly Seminar: "Polarization and Index Modulations: a Theoretical and Practical Perspective", CTTC 2017
– Richi Talent 2017
– Weekly Seminar: "CASTLE: A user-friendly platform to test, evaluate, and develop contemporary wireless communication standards", CTTC 2017
– Smart City Expo World Congress 2012
– Prototyping with SDR: a quick way to play with next-gen communication systems, CTTC 2012
– Electromagnetisme, El Matí de Catalunya Radio 2011
– Jodrol & Anvans, Mobile World Congress 2017
7. Academic Mentoring
He advised and supervised undergraduate students, and post-graduate students.
– 2 Master Thesis
– 2 fellowship exchanges.
8. International Conferences Organization
He also participated in the organization of the following conferences:
– EUSIPCO 2011
– ISWCS 2014
– ASMS 2016
– ICASSP 2020
9. Awards
– 2019: winner of the Special Doctoral Awards from Universitat Politècnica de Catalunya (UPC).
– 2018: Best Paper at CSNDSP18 conference.
10. Scientific & Professional Memberships
– IEEE Senior Member
– WWRF ITU Evaluation Group