The following products are available for purchase directly from CTTC.
The list includes a solution to improve the performance of GNSS receivers designed in the software platform developed by CTTC's open-source initiative GNSS-SDR, by providing a very competitive System-on-Chip solution, with reduced time to market development.
To get a quotation, please follow the specific link provided for each product.
GNSS-SDR embedded SoC hardware accelerators (IP core)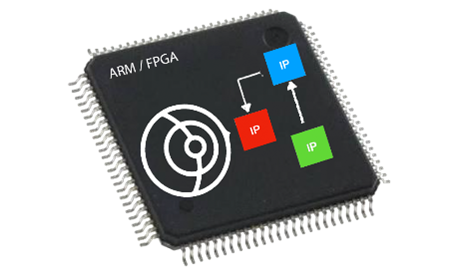 The pinnacle of the GNSS-SDR endeavor is to be able to run it at full capabilities in a lightweight, low-consumption, and small form-factor device. This is now possible in selected System-on-Chip devices via the utilization of FPGA IP cores, ensuring a balance between computational demands and power efficiency for an optimal GNSS signal processing experience.
These IP cores are the perfect add-on to exploit the flexible software platform GNSS-SDR, allowing users to configure a fully-customized GNSS receiver to their needs.
Check the specifications and place your order at: https://navposproducts.cttc.es