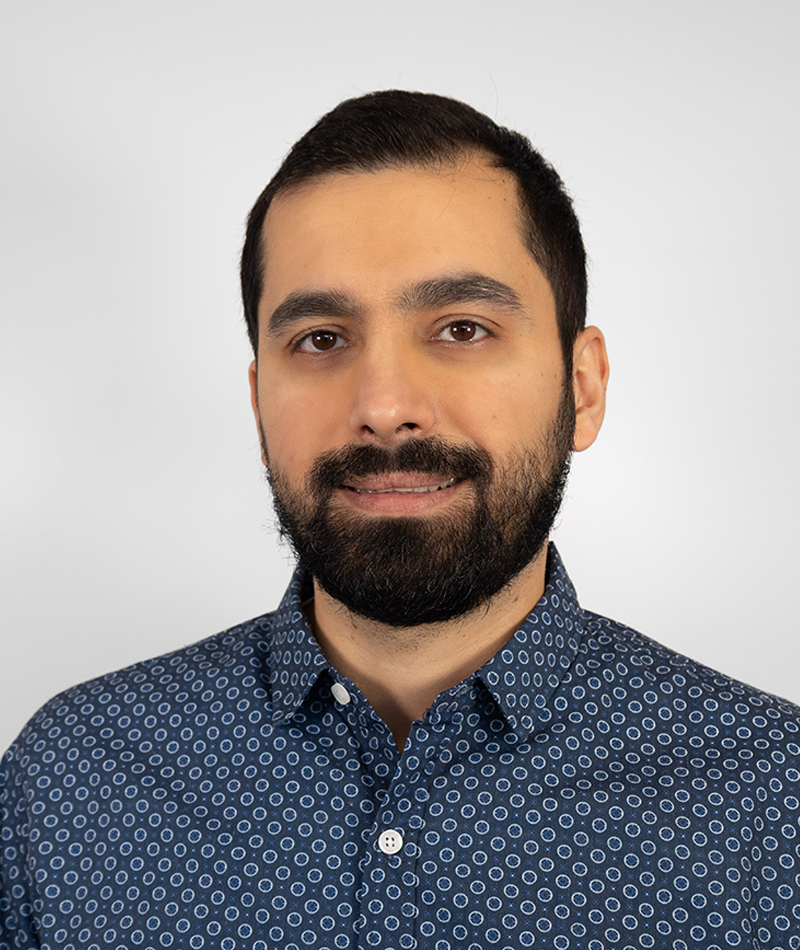 Services as Networks (SaS)
Phd , Researcher
Email: hamzeh.khalili@cttc.cat
Phone: +34 93 645 29 00
Dr. Hamzeh Khalili received his bachelor degree in Information Technology from Assumption University of Thailand and Master degree in Information and Communication Technology, and a PhD in Network Engineering of Telematics, both from Universitat Politècnica de Catalunya (UPC) – Barcelona, Spain.
He is currently researcher in the Services as networkS (SaS) Research Unit at CTTC. His main interests and activities are focused on 5G network and beyond (i.e., 5G+ and 6G), 3GPP, ETSI MANO, Software Defined Networking (SDN), Network Function Virtualization (NFV), Satellite and Terrestrial resource coordination, 3GPP & ETSI standards, and network slicing research and innovation. He has also an extensive experience and research in EPON networks, network architecture and energy saving in optical networks, among others.
He has a working experience of over 10 years in ICT industry, research institutes, European Union (EU) projects and Spanish national projects.
Dr. Hamzeh Khalili has participated in several research projects, funded by the EU and the Spanish government such as 5GMediaHub, 5GEPICENTRE, SaT5G, 5GCity, 5GClarity, 5G-ESSENCE, RESPOND-A, GEANT-3 (GN4-3) and ONOFRE-2, to name a few examples. He has actively contributed to research and innovation action proposal in H2020 and ICT EU research programs.
He (co) authored many scientific publications, among all, 20+ peer reviewed articles published in high-profile journals, conferences, and book. He also contributed to standardization activities within European framework such as ETSI and 5GPPP Software Network Working Group.
Citations: Google Scholar
He has been chairman at:
1st workshop "Softwarization and Virtualization of Optical Access Networks (OptSoft 2020)" in ICTON conference, 2020.
1st workshop on" Integration of Satellite Systems into Terrestrial 5G Networks (ST5G 2020)" in IEEE Conference on Network Softwarization – NetSoft, 2020.
And co-chairman at:
2nd workshop on "Integration of Optical and Satellite Communication Systems into 5G Edge Networks (OSCto5G 2020)", 2020.
1st workshop on "Integration of Optical and Satellite Communication Systems into 5G Edge Networks (OSCto5G 2019)", 2019.
He also was part of the technical program committee in more than 10 international conferences from 2017 until now.
Moreover, he served as a reviewer in IEEE Access, Optical Communication and Networking, Communication Systems and ACM Computing Survey journals, and conferences such as IEEE Meditcom, IEEE NetSoft, IEEE ICTON, NWCOM, to name a few examples.
He has been co-adviser of a MSc. Thesis in Computer networking at Universitat Politècnica de Catalunya – UPC.
In addition, he was an invited speaker for several events and talks on 1) Integration of Satellite and Terrestrial Networks at GEANT Symposium, 2) Distributed Cloud & Radio Platform for 5G Neutral Hosts at 5G Day – OSM & 5G Research, and 3) Softwarization and Virtualization of EPON networks architecture at SDN and Network Programmability Meetup.
Implementation of 5G Experimentation Environment for Accelerated Development of Mobile Media Services and Network Applications
Proceedings Of The 26th Conference On Innovation In Clouds, Internet And Networks, Icin 2023.
pp. 153-160
January 2023.
Khalili, H., Kahvazadeh, S., Pajo, J.F., Frizzell, R., Castelli, A., Tolan, M., Markopoulos, I., Ribback, R., Erikstad, E., Nicholon, D., Ramantas, K., Christofi, L., Verikoukis, C.
10.1109/ICIN56760.2023.10073512
Google Scholar
Vertical-oriented 5G platform-as-a-service: user-generated content case study
Proceedings - 2022 Ieee Future Networks World Forum, Fnwf 2022.
pp. 706-711
January 2022.
Kahvazadeh S., Khalili H., Silab R.N., Bakhshi B., Mangues-Bafalluy J.
10.1109/FNWF55208.2022.00129
Google Scholar
Unification architecture of cross-site 5G testbed resources for PPDR verticals
2021 Ieee International Mediterranean Conference On Communications And Networking, Meditcom 2021.
pp. 13-19
January 2021.
Arampatzis D., Apostolakis K.C., Margetis G., Stephanidis C., Atxutegi E., Amor M., Di Pietro N., Henriques J., Cordeiro L., Carapinha J., Khalili H., Rehman A.
10.1109/MeditCom49071.2021.9647591
Google Scholar
Show More