GEDOMIS ® – GEneric DemOnstrator for intelligent SDR and edge coMputIng Solutions
GEneric DemOnstrator for Modular and agIle SDR Systems (GEDOMIS®) is a highly customizable testbed comprising a number of software defined radio (SDR) platforms, which can be used to develop 5G and beyond wireless communication systems, targeting below 6 GHz applications.
In addition, GEDOMIS® includes a real-time multi-channel channel emulator and other test & measurement (T&M) equipment to facilitate the validation and testing of realistic radio communications scenarios, before conducting field trials. The hardware and software building blocks of GEDOMIS® can be configured, customized and programmed according to different prototyping or experimental needs.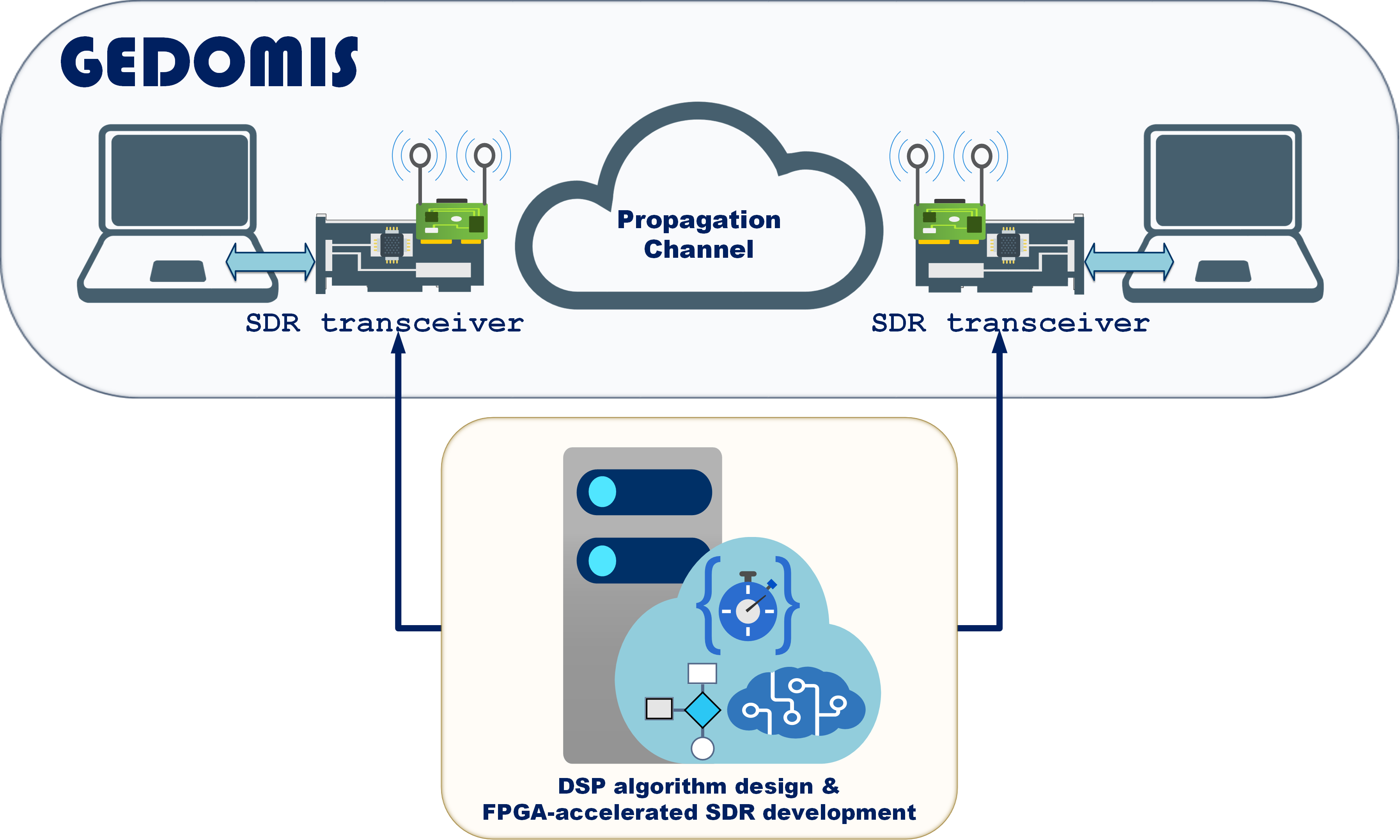 Starting from 2009, GEDOMIS® has been used to prototype a number of real-time demonstrators.
The most complex development carried out in GEDOMIS®, was a propriety implementation of the DL LTE PHY-layer, which was interfaced with a purpose-built customization of CTTC's EXTREME® testbed.
The latter hosted a suitably modified version of the ns-3 LTE extensions (LENA).
The interfacing of the two testbeds and the key modifications applied to LENA were the following:
i) the single software process of LENA was divided in three separate processes (i.e., for the eNB, UE and EPC)
ii) the abstracted PHY-layer of LENA was substituted with the one developed in GEDOMIS® and
iii) the two testbeds were connected through a custom PHY-MAC interface, which guaranteed uninterrupted real-time connectivity between the two layers.
This joint end-to-end real-time testbed added over-the-air testing capabilities to LENA and helped to validate different RAN functional splits and KPIs.