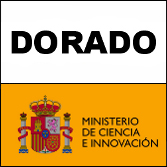 Start: 01/06/2010
End: 31/12/2012
Funding: National
Status: Completed

Research unit:
Packet Optical Networks and Services (PONS)
Acronym: dorado
The aim of the DORADO project is to investigate the Wavelength Switched Optical Networks (WSON), Connectio-oriented Ethernet (COE), and Generalized Multiprotocol Label Switching (GMPLS) technologies as the basis for cost-efficient, high-speed, flexible and dynamic optical transport networks. This will be done from an integrated approach that will include technological aspects of modelling, design, performance evaluation and experimentation in the ADRENALINE Testbed® of both optical communication systems and optical networks. The DORADO project is the evolution of the previous fundamental-research project RESPLANDOR (TEC-2006-12910/TCM) in which some research aspects of optical networks applied to GMPLS-enabled WSON infrastructures were addressed. The following list summarizes the main scientific and technical objectives that will be addressed:
· Design and evaluation of spectrally-efficient transmission systems based on optical OFDM. Investigation of all-optical OFDM transmission systems to overcome the limitations induced by electronic processing.
· Design and evaluation of advanced optical performance monitoring techniques for dynamically reconfigurable transparent optical networks based on RF spectrum analysis and asynchronous sampling.
· Centralized and distributed RWA algorithms and reservation protocols along with the required extensions to the current GMPLS RSVP-TE, OSPF-TE, and PCEP protocols for provisioning/recovery of optical services in WSON.
· Grooming and aggregation algorithms, along with the required protocol extensions, for the efficient provisioning/recovery of connection-oriented Ethernet services over WSON.
· Development of an experimentation platform to study the performance of GMPLS-enabled connection-oriented Ethernet transport over WSON with all optical wavelength converters and tuneable dispersion compensator modules.
Raül Muñoz
PI/Project Leader
Ramon Casellas
Researcher
Ricardo Martínez
Researcher
Michela Svaluto Moreolo
Researcher
Francisco Javier Vilchez
Researcher
Marcin Chochol
Researcher
Carolina Pinart
Researcher
Centre Tecnològic de Telecomunicacions de Catalunya
Coordinator
No results found