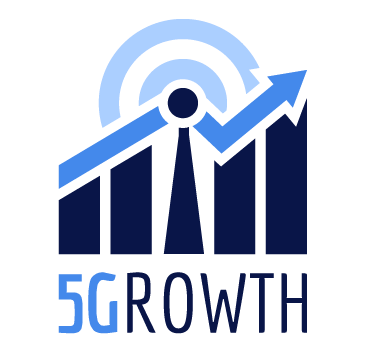 Start: 01/06/2019
End: 28/02/2022
Funding: European
Status: Completed

Research unit:
Mobile Networks (MONET)
Acronym: 5GROWTH
Call ID: H2020-ICT-2018-3
Code: 856709
Abstract:
The vision of the 5Growth project is to empower verticals industries such as Industry 4.0, Transportation, and Energy with an AI-driven Automated and Sharable 5G End-to-End Solution that will allow these industries to achieve simultaneously their respective key performance targets. Towards this vision, 5Growth will automate the process for supporting diverse industry verticals through (i) a vertical portal in charge of interfacing verticals with the 5G End-to-End platforms, receiving their service requests and building the respective network slices on top, (ii) closed-loop automation and SLA control for vertical services lifecycle management and (iii) AI-driven end-to-end network solutions to jointly optimize Access, Transport, Core and Cloud, Edge and Fog resources, across multiple technologies and domains.
The main objective of 5Growth is the technical and business validation of 5G technologies from the verticals' points of view, following a field-trial-based approach on vertical sites (TRL 6-7). Multiple use cases of vertical industries (Comau, Efacec_S, Efacec_E, Innovalia) will be field-trialed on four vertical-owned sites in close collaboration with the vendors (Ericsson, Interdigital, NEC, Nokia) and the operators (Altice, Telecom Italia, Telefonica) in the project.
5Growth will leverage on the results of 5G-PPP Phase 2 projects where slicing, virtualization and multi-domain solutions for the creation and provisioning of vertical services are being developed and validated, e.g. 5G-TRANSFORMER and 5G-MONARCH. Two ICT-17-2018 5G End-to-End platforms, 5G EVE and 5G-VINNI, have been selected for the Trials to demonstrate the 5Growth specific vertical use cases. In addition to the impact on vertical-oriented standards (e.g., EN50126 (IEC62278) for railway signaling), the verticals in the consortium will be offered an opportunity to influence ongoing 5G standardization by leveraging the involvement of leading experts in the various relevant SDOs.
For more information, please visit: http://5growth.eu/
Josep Mangues
PI/Project Leader
Josep Mangues
PI/Project Leader
Ricardo Martínez
Researcher
Ramon Casellas
Researcher
Ricardo Martínez
Researcher
Ramon Casellas
Researcher
Centre Tecnològic de Telecomunicacions de Catalunya

Telefonica Investigacion y Desarrollo

Ethniko kai Kapodistriako Panepistimio Athinon

Ericsson Telecomunicazioni

NEC laboratories Europe GMBH

Interdigital Germany GMBH

EFACEC Energia - Maquinas e Equipamentos Electronicos SA

EFACEC Engenharia e Sistemas SA

Asociacion de Empresas Tecnologicas Innovalia

Mirantis Poland Spolka Z Ograniczona Odpowiedzialnoscia

Institution de Telecomunicacoes

Scuola Superiore di Studi Universitari e di Perfezionamento Sant'anna

No results found